Library

North End Branch Library
Boston Public Library
25 Parmenter Street
Boston, MA 02113
617-227-8135
BPL.org – North End
Monday
Tuesday
Wednesday
Thursday
Friday
Saturday
Sunday
10 a.m.–6 p.m.
10 a.m.–6 p.m.
12 p.m.–8 p.m.
10 a.m.–6 p.m.
9 a.m.–5 p.m.
9 a.m.–2 p.m.
Closed
The North End Branch offers a collection of the latest best-sellers, fiction, non-fiction, audiobook CDs and DVDs for children and adults. The North End Branch maintains a local history collection which is mainly comprised of published monographs. The branch recently acquired the archives of the North End Union as a supplement to this collection, which has been moved to the Rare Books Department. Recurring and special programming are offered for both children and adults. See their event calendar.
Originally established at 3A North Bennett Street in 1913, the North End Branch was relocated to its present site in May 1965. The building is a simple, one-story structure modeled after a Roman "villa". One of the outstanding features of the building is a scale model of the Ducal Palace in Venice. The North End Branch also boasts a white marble bas-relief of Dante Alighieri, which was donated to the Central Library in 1913 and later moved to the branch. See more information on the North End Library.
The Friends of the North End Branch Library support the library with special programs and raise funds for new equipment. The Friends also serve as liaison between the Boston Public Library staff and the community.
Schools
John Eliot K-8 Innovation School
617-635-8545
EliotK8School.org
Lower School
Kindergarten 1–Grade 1
16 Charter Street
Boston, MA 02113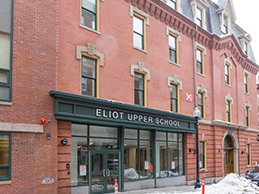 Intermediate School – North Bennet St.
Grade 2–Grade 4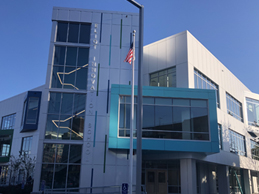 Upper School – 585 Commercial St.
Grade 5–Grade 8
---
Mercantile Kindercare Child Care & Preschool
117 Atlantic Avenue
Boston, MA 02113
617-227-3143
---
North Bennet Street School
150 North Street
Boston, MA 02113
617-227-0155
www.nbss.com
---
Saint John School
North Square – 9 Moon Street
Boston, MA 02113
617-227-3143
www.sjsne.com